Hiking for traces of the Roman era
21-28 April 2018 - Hadrian's Wall - England
19-24 May 2018 - Antonine Wall - Scotland
Day to day coverage on this blog with text and videos:
Planned for 2019: Roman Limes - Netherlands
Day to day coverage on this blog with text and videos.
With these walks I will be crowdfunding for the Scottish Society For Prevention Of Cruelty To Animals.
BELOW THE DAY TO DAY COVERAGE:

Stavast - Bekkesnijders
Forthcoming Book: Stavast - Knife Fighting in the Netherlands. The forbidden art of Bekkesnijden (Maul-Cutting)
Forthcoming book about the history and culture of a typical Netherlands phenomenon: A hundreds of years old traditional knife fighting art named Bekkesnijden (Maul Cutting). Single fights or tournaments were organized at the fairs or by the pubs and inns. There was a code of honor and a set of rules. Victory came when blood was drawn by cutting the opponent's face. Death was a rare outcome, but as arguments and other mishaps were often fought out in a similar fashion, death did occur. Local regents prohibited Bekkesnijden many times but never fully enforced their laws. This came to an end during the 19th century when it was slowly forced to become an illegal underground art. The name Bekkensnijder then slowly became a nickname and a word mistakenly used with any incident with which knifes, palm-blades or sharpened coins were used to cut one's face. The true art of Bekkensnijden is still practiced today with live blades (Not to everybody's approval and mostly in the form of illegal prize-fights), blunt blades or with specially designed marker-blades. Even though training and competing with blunt blades and marker-blades is now a respectable competitive sport and is not illegal, the art has remained an underground phenomenon. This book does not only tell you the history, it also includes a trainable analysis of the handed down techniques and legendary strategies.
The project has already been promoted at the DKE Knife show in April 2015 in Tiel in The Netherlands for which several knife makers created historically inspired knifes.
Update:
Bekkesnijden is at present an official competitive sport.
Included in the book will be a complete training programme and the official rules and regulations for competition, making it possible for everybody to be a part of this tradition.
Friends and sponsors
Dutch Knife Expo 2018:
http://www.dkeshow.nl/
Netherland's knife magazine:
http://messenmarkt.nl/
Vereniging Nederlandse Wapenverzamelaars:
http://vvnw.nl/
Studievereniging voor behoud van Historische Wapens en Toebehoren:
http://www.musket.be/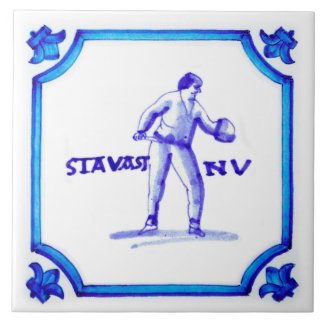 The Stavast Bekkesnijder Dutch Blue Tile collection. Created after the original antiques by
Stavast